2021, March 24
RESOLVED
[1] Not only can't I do fast copies of content from one page or another, I also can't transfer content (using HTML copies) between my many websites (the latter is a real killer for me as I work to do a massive update of my overall "platform design"; as well as conversion to the newer block-style coding).

[2] The Image to the left shows a display that is confusing, and I bet not proper (a bug). The hierarchy that I worked so hard to develop and maintain is not reflected in the Admin Panel. That's cumbersome. Am I now required to develop my own Page-List pages to help administer each website?
[3] To be clear, the new Block Coding is AWESOME. I'm getting better an better every day. I love it. BUT, the new DASBOARD losing access to the CLASSIC DAASHBOARD is not a good move for me. And in sayin so, I'm not exactly a super sophisticated user, but I came to learn it and I rely on it a lot.
2021, March 24
RESOLVED
Here are two visual examples of the content I've created. It's a standard bit that I would develop in the Block Editor and then go to the Classic Dashboard and choose the Classic HTML editor. Then, I copy the HTML and post it into my Sidebar Widget using the Custom HTML feature box.
I don't code HTML well, let alone Block Coded HTML. By using the WordPress editors (all of these) I am able to let the application do the work and I then copy it an move it into the web pieces. It's made me look 100% sharper than I am. I'm dead in the water without this powerful advantage. Heck, even a skilled Block Coder isn't efficient constantly recoding the same Visual Blocks over an over again. I can't be the only user asking for the Classic Dashboard. Having it available as a quite link works for me – I would gladly continue to document when I use it over the new Dashboard as a way to help future development until the Classic Dashboard is 100% redundant.

I have a vague recollection that the Classic Dashboard was pulled off the developer menu a while ago and we could access it with a quite link. Please give us that ability again.
2021, March 24 – 10:57 am
I received this welcomed response –


Hi there,
Your support request has been submitted to our team of Happiness Engineers. Rest assured that your email arrived safely and our support team will be in touch as soon as we can.
If you have any new details, or happen to find the answer yourself in the mean time, just reply to this email directly to keep us updated. Additionally, you might want to check out our daily webinars – https://wordpress.com/webinars – and our support documentation – https://wordpress.com/support.
Thank you for your patience and we'll be in touch soon!
– The WordPress.com Support Team
2021, March 24 – 5:58 pm
This welcomed response solved my issue. My panic over lost functionality, powerful functionality, is not warranted. Thank you WordPress.com (Automatic, Inc). Heads up work team. And fast response as well.


Brad P. (Automattic)
Mar 25, 2021, 0:58 UTC
Hi there William,
Thank you for reaching out, the content of the section you are looking for has now been replaced by an alternative one, as part of unifying our website management experience.
I can definitely understand wanting to get back to the dashboard you are used to. to do that visit this page: https://wordpress.com/me/account
You will want to locate the setting labeled Dashboard appearance and then toggle on Show advanced dashboard pages. This should give you back the dashboard you are familiar with.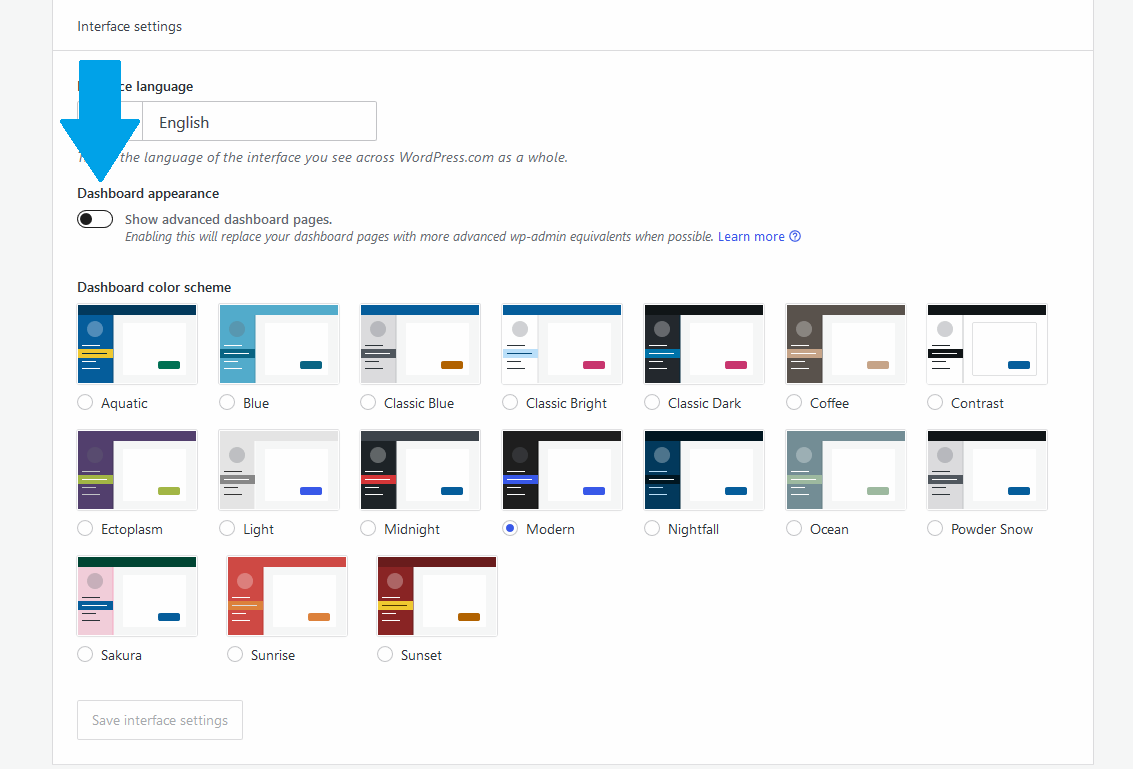 Please let me know if you have any additional questions. 🙂
Sincerely,
Brad – Happiness Engineer
Attachment(s)
DashboardSettings.png